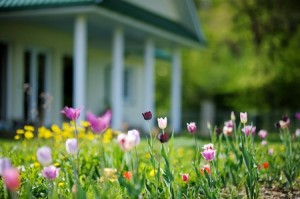 Thinking about selling your home this spring or summer? Start thinking about cleaning and organizing. Studies show that giving your home a thorough cleaning, de-cluttering and tidying up your yard before listing your home for sale is a smart move. Clean and organized homes can sell faster and possibly for a higher price. Here are three ways to prepare your home:
Give it a deep clean. A clean home is more appealing to buyers. A deep clean. You'll want to scrub the floors, walls, windows and major appliances, like your stove. Home buyers do look in refrigerators, cabinets and closets, so you'll want to clean those, too. Watch out for pet odors and stains — that's a big turnoff for home buyers.
De-clutter and organize. Your real estate agent may suggest you remove a portion of your furniture and belongings to a storage unit while your home is listed for sale. Too much 'stuff' can make your home look smaller than it really is. If you have children, packing some of their belongings away now will help reduce the number of toys you have to clean up each time prospective buyers comes through. Consider reducing the number of personal effects in your home, such as family portraits. Potential buyer want to be able to visualize themselves in your home and that can be hard to do with family portraits lining the hallway.
Spruce up your yard. Put away winter decor, and give the front door and outdoor entry a thorough cleaning. Consider planting flowers in any bare spots or putting a new pot of flowers or welcome mat by the front door. A springtime wreath on the front door may be a nice touch, too.
Should you take the additional step of doing any painting? If it's been a long time since you have painted your home, or you have a variety of bright colors throughout your home, it may be time for a coat of a neutral color. A fresh coat of paint can make your home's interior look like new. Even if you decide not to paint, though, make sure your walls are clean. A Magic Eraser cleaning tool can help get rid of stubborn smudges and hand prints and can make your walls look much better.